Mark Slapinski
TORONTO – Effy Zarabi is a police officer turned whistleblower and women's rights activist.
She first went public with concerns about her employment with the Toronto Police in September 2018, filing a human rights complaint, while simultaneously sharing her traumatic experience with outlets such as the Toronto Star. In an article published in late September 2018, a reporter from the Toronto Star summarized her experience:
"Repeated sexual advances from colleagues and superiors, prompting her to wear a fake engagement ring.

Frequent remarks from fellow officers about the bodies of female cops and sexual assault victims.

Pornographic images posted in common areas in the police station, sometimes with racist comments scrawled overtop."

Wendy Gillis, Toronto Star
Since then, Zarabi has become akin to a local celebrity, with some of her tweets being spread widely across the Canadian Twitterverse.
Now Zarabi claims her and her fiancé – who is also a police officer – are facing "relentless bullying, retaliating and silencing" from the upper management. This has come in the form of the announcement of a professional standards investigation against Zarabi's fiancé for failing to report sexual "misconduct as required."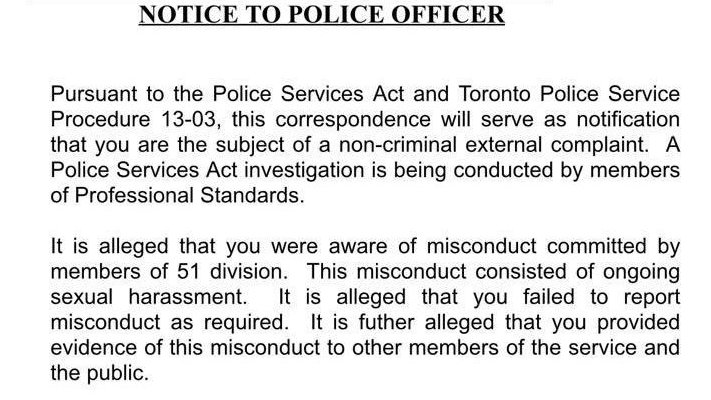 This is not the first time Zarabi or her partner have faced blowback from the Toronto Police. Posted to the top of her Twitter page is a cease and desist from Toronto Police lawyers, stating that her claims about harassment and racism are "defamatory."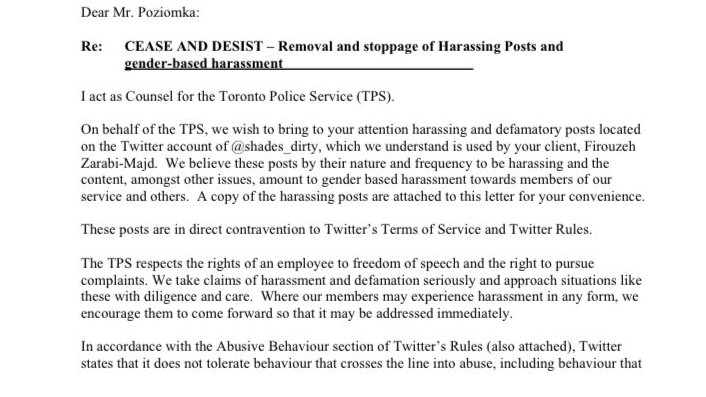 Zarabi pushed back, stating her claims were accurate, and she should be allowed to keep speaking freely. She claimed that the statements the Toronto Police made in the letter were inaccurate.
In addition to harassment and intimidation tactics, she claims her previous lawyer Howard Levitt gave her a $500,000 bill for legal services. This left her in financial ruin and increased her emotional trauma.
Due to the fact the case between Zarabi and the Police is ongoing, the Police have not said much publicly in its defence or in defence of the officers. Interestingly, the Toronto Police has a section about bullying on its website. On it, it states:
A bully is a domineering person or group of persons who abuse others. A person who tries to control others by fear. A person who behaves in an aggressive, thoughtless and unjust manner.

Toronto Police Website
Zarabi continues her online activism. Fortunately, Effy has teamed up with other Police Officers online that (unfortunately) had a similar traumatic employment experience.
When asked about next steps via direct message, Zarabi stated that she aspires to become the Chief of Toronto Police in the future.
Like what you read? Share it on Social Media!