For more than a quarter of a century Robert Small has been putting pen to paper in his lifelong quest to educate himself and others about Black History in Canada.
But he isn't writing textbooks, novels or stories. He isn't writing anything at all.
Small prefers to use his pen and, at times, his brush to communicate through a much more colourful medium.
For 27 years and counting his vibrant portraits have illustrated a mosaic of Black excellence in Canada.
Giving a brief tour of just some of the pieces hanging inside his home studio, Small is happy to point out some of his favourites.
"We have Mr. Dudley Laws, who was a human rights activist, Mrs. Hall was an active community worker," Small said.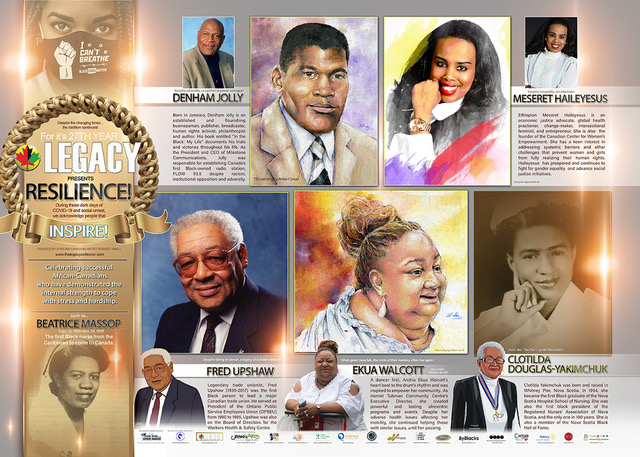 A portrait of Canada's first Black, female member of Parliament, Jean Augustine, is on one poster.
On another, you'll find CityTV's first Black reporter, Jojo Chintoh. An average of four prominent Black Canadians shares the page each year, which is known as the official Black History Month Poster across Canada.
"When I first started doing the poster the last thing on my mind was doing a poster that would go across the country," said Small.
As a child growing up in Windsor, Ont., Small remembers flipping through the pages of his history textbooks at school and it was as if Black contributions to society didn't exist.
"The first time I knew anything about black people was when I was introduced to slavery. Then there was a 500-year jump and the Black people disappeared somehow," he said. "They reappeared at the civil rights movement and that was it, that was the end of the discussion."
Small's life work has been focused on pushing the discussion forward by getting his artwork in front of as many people as possible. Every February, since 2007, his posters have been on display inside Bank of Montreal branches from coast to coast.
In an effort to encourage people to keep his pieces hanging on their walls all year round, he's dropped the official "Black History Month" title from his posters. They are now called "The Legacy Project."
The fitting theme for his February 2021 release is resilience, which celebrates African-Canadians who have persevered during difficult times.
"What I hope people take away (when looking at my artwork) is that they feel compelled to do something historically themselves," he said. "That you too can look for a way to contribute to Black history."
You can view Robert Small's important artwork including this year's poster, by going to his website.