Mark Slapinski
On Saturday, a man name Rob Gill made waves on Twitter for posting a call to action that involved intimidating and "going after every Senator who voted 'Not Guilty'" for Donald Trump. This was in reference to Donald Trump's second impeachment trial, for which he was acquitted.
Rob Gill's tweet sparked furor amongst Canadian and American Conservatives alike, who were quick to call him in out. Some accused of him of "inciting violence" against people he "disagrees with." Many others called him a "coward."
He's gone into hiding pic.twitter.com/KMR7wpiUCy

— Inspector Japp🇯🇵 (@crazybirdlady19) February 14, 2021
In response, he deleted his account. His Instagram account is still live, but he changed the picture and rewrote the bio to obscure his identity.
Fortunately, a websleuth screenshotted his Instagram bio before he changed it.
.Who are you, Rob? You are inciting violence with your whining. You are promoting violence against people you don't agree with. God, what kind of office could you hold? Did @RepMaxineWaters train you in this elegant way of speaking? You all are the trash you claim others are.

— Cora van Zyl (@coravanzyl) February 14, 2021
But this begs a question. Who is this guy?
Rob Gill – Antifa Thug
Rob Gill is a small time social media influencer that appears to live in St. Catherines. This is a small city in Southern Ontario, Canada. He is a failed politician, and according to his Instagram bio (since altered) a failed comedian.
He made a small name for himself as an outspoken and radical liberal. He has made countless wild claims on the internet, such as calling for deportation of Melania Trump.
Rob Gill is a self-described LGBT advocate. He claims he was "bullied" in school. It is notable that he often displays "bullying" tactics online. Many have described him as an "Antifa thug" due to his history of doxing people he disagrees with.
In 2019, police warned Rob Gill for publishing Sam Oosterhoff's parents' address. Oosterhoff is a politician. Unfortunately, Rob Gill, he did not receive punishment for this offence. This is despite the obvious threat to Oosterhoff's parents' safety.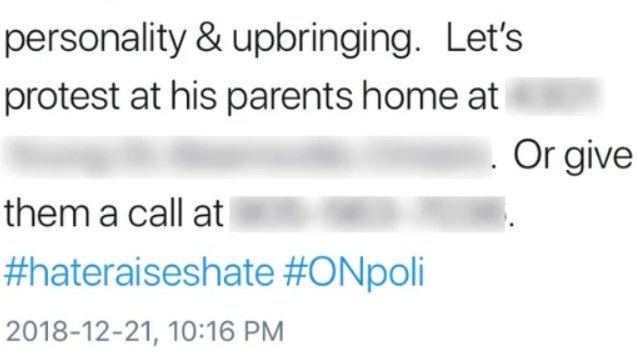 He also attempted to dox (and falsely) Keean Bexte of Rebel News, but retracted it after the journalist threatened to sue him.
Should be criminally charged. This happens way too frequently with him. pic.twitter.com/TMMulBou36

— Niagara Truth (@niagaratrue) February 15, 2021
HE SOUNDS LIKE ANTIFA!

— Tired of being politically correct (@USBornNRaised) February 14, 2021
This dude lives in Canada with his boyfriend. They are ANTIFA

— Chic One (@ChicOne12) February 14, 2021
@SpeakerPelosi @SenSchumer @MittRomney this man @vote4robgill is inciting violence! What are you going to do about it?! https://t.co/aKpxLRbUfx

— christine Berens (@crisndav2010) February 15, 2021
Neither the Police nor the MSM have made any statements or acknowledged Rob Gill's case. However, many people have reported his multiple Social Media accounts. Many more are demanding a criminal investigation, not only in the United States, but in Canada, too.
Like what you read? Share it with a friend!